By Rita Platt
The suggestions below are great books for everyone. This post, however, puts the lens on readers who are African American boys. If we give our students books that they want to read and can read, they will read them. Once readers finish one book, their confidence grows. Increased confidence and a great library can lead to increased reading and for students. African Americans have a long rich history of being greatly invested as members of literature societies. As teachers we should celebrate that history and work to ensure that we help our boys find books they can and want to read.
Below are recommendations for high quality literature to engage African American boys in grades five and above. By no means is this an exhaustive list, but it offers a starting place. Resources are listed by author, publisher, or series.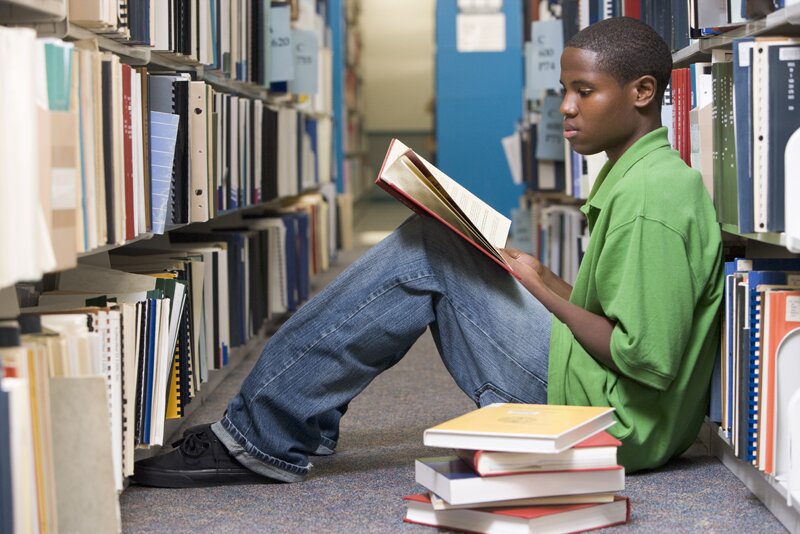 Townsend Press is low cost ($2 per book!) and junior high/high school students LOVE the books! The TP Library includes adapted classics, memoirs, biographies, and historical accounts that kids can't put down. Even better is the Bluford High Series wish features diverse characters in real-life situations. They are highly engaging and students who have never finished a book will gobble up the Bluford title.
Flake writes realistic fiction with African American protagonists facing the problems of modern youth. Her novels have an authentic feel and are written at a variety of levels.
Curtis is a master of historical fiction with young African American protagonists. His books are informative, evocative, and funny. For a real treat, listen to an audio version. Elijah of Buxon, narrated by Mirron Willis, is a masterpiece beyond compare!
Ellis' books are based in fact and are set all over the world. These page turners help young readers experience life in modern-day Afghanistan, India, America, and Bolivia. Follow her characters as they live through hard times and help their families to survive.
Jake Maddox and Mike Lupica Sports Novels
Two truly incredible sets of books about every sport you can imagine. The books have both male and female protagonists and are highly engaging. Maddox writes for middle grade readers and Lupica for late junior high and high schoolers.
Former teacher, Draper, knows how to write for students. Her stories are realistic fiction with African American characters of all ages and stages. Her Forged By Fire series is one of the most popular in young adult novels.
These novels look long and students like that. They are on gripping teen-related topics. They are in verse, a simple poetic prose that makes for quick page-turning and deep thinking.
I Survived SeriesBy Lauren Tarshis
Gripping short historical fiction reads. Once kids read one they can't help but read the entire series. Middle-grade aged characters survive everything from Hurricane Katrina to the Nazi Invasion to the 9/11 Terrorist Attacks and more.
Woodson's writes for middle grade and young adult readers. Her books are believable and highly readable. She shared stories of people learning about life and harnessing the support of their families, friends, and inner strengths to thrive in a world that is not always kind.
Myers writes novels with Shakespearean themes and African American characters set in modern times. His books include fiction, nonfiction, and novels in verse. They are dense and complex and worth every ounce of energy put into reading and comprehending them.