Posted by Timothy McClure
In the history classroom I use primary sources often to incorporate reading in the content area and reading strategies into my curriculum.  Using these sources I am often limited to the print materials that we own as a school and spend lots of time copying.  Instead of the traditional methods of using primary sources, I have discovered many websites that have online and printable versions of primary sources.  These documents allow me to vary the resources that I use in class.  Look below to find easy-to-uses websites to help you find the primary sources you need.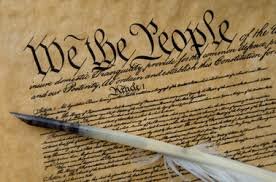 National Archives:  America's Founding Documents
https://www.archives.gov/founding-docs
The National Archives provides digital versions of the charters of freedom which include the declaration of independence, constitution and bill of rights.  These primary sources can be viewed through transcript or the actual document can be viewed as an online version.  Students can have the opportunity to explore these documents and use them as a sources of authentic learning.
Teaching American History
http://teachingamericanhistory.org/50docs/
The teaching American History website had 50 documents that are essential in the teaching of American History.  This site has a synopsis of each document and the time period, the full length document, a summary, related documents and academic standards.  These 50 documents could be an essential part of a Web Quest for students.  The website also allows the teacher to search by era.
Library of Congress
https://www.loc.gov/rr/program/bib/ourdocs/NewNation.html
The Library of Congress has developed this website to provide historical context to embedded primary source documents.  The story of American is told with links to the historical primary source document that is referenced.  In this way students can understand the history while viewing and working with the document.  It gives students an opportunity to work beyond the document before they use it in their product.
Classzone
http://www.classzone.com/cz/books/americans05/get_chapter_group.htm?cin=1&rg=research_and_writing&at=primary_sources&npos=1&spos=1&var=primary_sources
Classzone is a textbook based site that offers primary sources to teachers.  These sources are organized by the textbook chapters however they do have descriptions so they are easy to navigate.  The primary sources also have essential questions that go along with them which may help in the development of your Web Quest.
Rewordify
Sometimes primary sources are nearly incomprehensible for students. Whether that is because a student is an English language learner, a struggling or reluctant reader, or any other reason, students can still access the primary document using the amazing Rewordify. Rewordify takes a text and reduces the complexity to providing synonyms and simplifying language. Teachers can use it to make side by side texts (original and modified.) See the example below. Can you determine the original text?

Using primary sources in the classroom can give an assignment and authentic feel and engage students in reading strategies as they are learning about the historical time period.  These sites will help to find good primary sources and give the teacher background as to how to use the primary source with students.