Making Teaching Visible
Back in April of 2009, Chris Wondra, a crazy 8th grade Language Arts teacher from Saint Croix Falls, Wisconsin, had a crazy idea .  He wanted to create a place for teachers to share their professionalism and passion for teaching and learning without the intimidation and process of submitting to professional journals. He believed there was much more going on out there than most people could see. Incredible things.  And he wanted to make them more visible.
All he had to do (he thought) was to make the sharing easier and more inviting.  He believed that if he could create a space to share these things, incredible people would come.  And they have.  Since its launch, in the spring of 2009, WeTeachWeLearn.org has published over 300 articles, videos and digital stories created by dozens of teachers just like you.  Along the way we've also gained a loyal following that has translated into tens of thousands of page views.
Passionate teachers just keep showing up to share what they are learning about teaching.  That makes for powerful professional development opportunities.  But it also makes teaching more visible.  And that's important, because teachers inject a value into our communities that is both priceless and beyond measure.
We Teach We Learn is making teaching visible in three basic ways:
Publicly Shared Professional Development
Creating Community Connections
Exploring Our Individual and Collective Influence
Professional Development
The professional development piece was designed as a platform for teachers to:
Collect and share action research projects for Master's programs, PDP, and National Board Certification journeys,
Link teacher training and Master's programs to the field,
Provide an easy, comfortable place for teachers to share reflections, best practice, and what they are learning about the art and science of teaching,
Share and support each other through both frustration and triumph,
Publish teacher work and raise our professional image.
Community Connections
But why keep all this good stuff to ourselves?  After all, the skills we're honing, the knowledge we use, and the teaching and learning techniques we apply in our classrooms are also incredibly valuable to parents, as well as business and community leaders of all stripes.  And so, we've broadened our audience using tools such as:
A Facebook page that reaches thousands viewers a week,
A Twitter account with close to 400 followers
A weekly newspaper column and blog published via a network of 35 FCC news outlets with a reach of about 2.0 million readers every month both on and off line.
We use these outlets to:
Showcase (okay, show off then) what teachers really know and do,
Provide valuable information about teaching and learning that people can use in their daily lives with their families and coworkers,
Connect with parents, business, and community leaders of all kinds,
Frame teachers and the profession of teaching in a new and positive light.
Exploring our Influence
We don't like to complain, but let's be honest.  Teaching these days is not one of the most respected professions.  Today, it's become a lot easier and much more fashionable to attack and blame teachers than to support them.  Teaching has indeed become a high risk/low reward endeavor.  And so, we believe if the profession is to survive–in order to compete with other, more glamorous, lucrative, and socially respected careers for smart, ambitious, and enterprising talent–we must learn to tell our story in a way that illustrates our real value.
If we don't–if we are unable, or unwilling to–tell the truth about teaching and learning, it is only natural for people to find or make up their own stories.  And that's dangerous, because absent truth, the best story (and the best storytellers) win.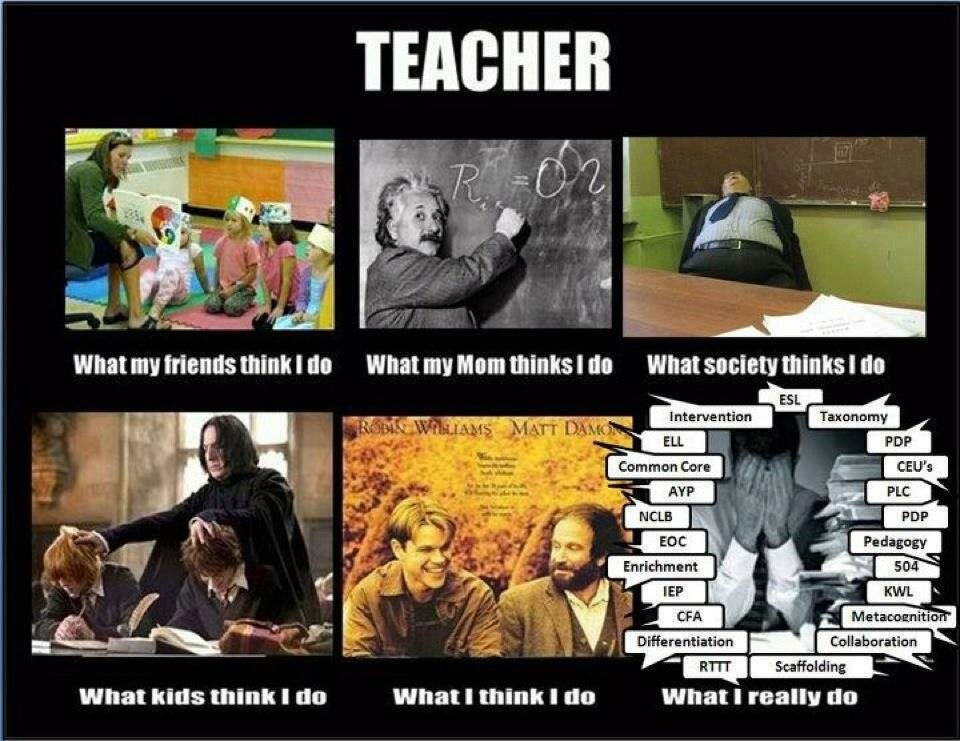 With that in mind, WeTeachWeLearn.org  also includes a book study examining Jamie Vollmer's, Schools Cannot Do It Alone.  And I believe we can also develop more tools teachers can use on a daily basis to influence the people around them.  We're used to thinking that the art of persuasion is an important tool for salespeople, politicians, and high powered business people.  We're also used to thinking of the art of persuasion as just that: an art or aptitude that some people are just born with.
Well, I'd like to introduce two ideas.  The first is that it is becoming increasingly apparent that the profession of teaching is more in need of masters of persuasion than ever before.  Whether it's getting your students to do their homework, to raising funds for the yearly field trip, increasing parental involvement, or working with your school board, there isn't a single teacher that couldn't benefit from better persuasive skills.  The second idea I'd like to introduce is that persuasion is more than an art.  Social psychologists like Robert Cialdini  have been studying the science of persuasion for years.  There are decades worth of scientific research on the subject.  What this means is that those of us without the gift of persuasion can now learn it.
We believe that the next step for We Teach We Learn  is to create a platform to empower teachers with information that experts like Robert Cialdini, Adam Grant and Dan Pink, have learned about the science and practice of influence.
So what is We Teach We Learn?  A platform to share professional development, connect with our community, and explore our influence.  Put that all together and it might look something like this: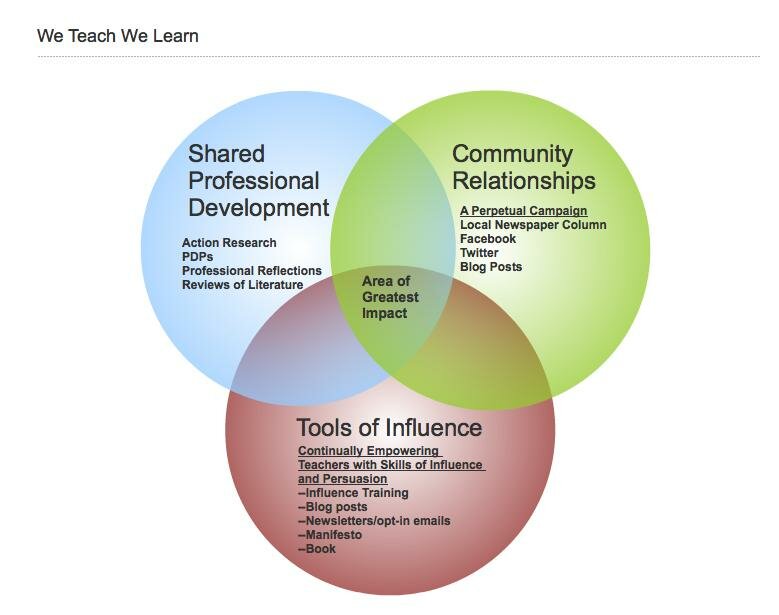 So, really, there you have it in a nutshell.
If you haven't yet introduced yourself, please do so by commenting on an article somewhere, or emailing us. The best email to reach us at this time is probably Chris's at: mrwondra@weteachwelearn.org.