By Rita Platt & John Wolfe
The amazing processes of reading comprehension may never be as invisible as when students first start reading informational texts. For a neophyte reader of non-fiction texts, word-for-word or even sentence-by-sentence, the text has meaning. But, often students seem to walk away from these texts with nothing more than a handful of details that rapidly seep from memory. The Common Core Standards remind us that learning to gather information from books is a critical aspect of a student's literacy learning. The Standards also emphasize the need for teaching students to conduct research and write informational texts. This means that most of us need to beef-up our teaching of skills and strategies related to non-fiction reading and writing.
As teachers who have always loved non-fiction reading we have worked to share these skills and strategies with our students. We believe that teaching students to take notes offers students the clearest path to success in reading and writing nonfiction.
When most of us where taught to take notes (or more likely figured it out ourselves) we were taught that the primary function of taking notes was to aid memory. After much reflection, we realized that this is not true. In fact, formal note-taking is more about scaffolding the key processes of synthesizing and making meaning from information. Taking notes reminds the reader to stop after every paragraph and think. This is central to learning to comprehend new text forms, especially non-fiction genres. The art and science of taking notes helps students internalize the synthesis and comprehension processes involved in understanding informational texts. And, on a purely practical note, taking the time to teach simple note-taking is, in and of itself, a valuable gift we can all give them.
After years of sharing various note-taking methods with students we have finally settled on a simple, cohesive, and effective method for teaching students to take notes. Below is a video we made for our students. Keep a few things in mind as you watch it:
1. We made this at our kitchen table.
2. The kids LOVED seeing me on video and shared it with their parents.
3. I didn't wear any makeup.
4. I'm much prettier in person. HA!
We hope that you will find the video helpful and that you can use the method modeled in your own teaching! Either way, we'd love to hear your thoughts! What do you think of taking-notes? What would make our process better?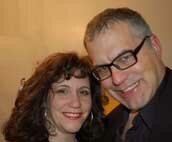 Rita Platt is a Nationally Board Certified teacher. Her experience includes teaching learners of all levels from kindergarten to graduate student. She currently is a Library Media Specialist for the St. Croix Falls SD in Wisconsin, teaches graduate courses for the Professional Development Institute, and consults with local school districts.
John Wolfe is a teacher on special assignment for the Multilingual Department at the Minneapolis Public School District. He has worked with students at all levels as well as provided professional development to fellow teachers. His areas of expertise include English Language Learners, literacy, and integrated technology.